2/25/1949
Kitty Litter can be purchased in Saks Fifth Avenue in New York, J.L. Hudson Co. in Detroit, and Marshall Fields of Chicago.
Related Articles...
As a management consultant for a Big 8 firm, Mike Hawksworth was a seasoned road warrior. Then in 1986, tired of living out of a suitcase and wanting to spend more time with his family, he launched MSS Technologies. Yet Hawksworth wasn't content to be a lifestyle entrepreneur — he wanted to create a lifestyle growth company.
Read More ...
Businesses survive because they have customers that are willing to buy their product or service. However, many times businesses fail to "check in" with their customers to determine whether they are happy or not and what it will take to make or keep them happy
Read More ...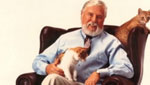 Remember Chicken Litter? I'm not surprised; it got about as far off the ground as a hen in flight. But without it, there might never have been a Kitty Litter, which revolutionized life for pet owners and earned me more than a few dollars in the process.I was in my 20s, laboring in my father's sand and gravel business, and chafing to climb out of the rut we seemed to be in. When my father started buying crumbled clay to use as an industrial oil and grease absorbent, I looked for other ways to use the material. One day, I was talking to a guy about nesting chickens, and the Big Idea kicked in.
Read More ...