Quick Links:
Return To Entrepreneur's Resource Center
Extreme Measures — Seeing Red
"Extreme Measures — Seeing Red" A red Swingline stapler plays a pivotal role in "Office Space," a 1999 film. As the dark comedy gained a cult following on video and cable, its fans deluged Swingline with calls and e-mails requesting red staplers.The only problem: Swingline didn't make red staplers. A prop designer had created the movie version.
When enterprising fans began spray-painting black Swinglines and selling them online, the Lincolnshire, Ill., office-supply company recognized the growing market. The "Rio Red" Swingline debuted in the spring of 2002 and became the most popular item on the company's Web site, even at twice the price of its basic black model.
Source: The Wall Street Journal, July 2, 2002
Related Articles...
Creating and living your core values can propel your company into high gear.
Read More ...
Digital Library > Human Resources Management > Training "Satellite TV Training" Give your business a competitive edge through continuous employee training. PBS' "The Business Channel" (TBC) allows employers to bring its training to their location or send employees to partner sites nationwide for instruction. The satellite learning sessions cover topics such as how to recruit, teach and keep talented workers,
Read More ...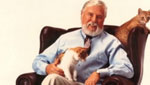 My Grandpa Huber used to tell a story about an entrepreneurial miner. After a few years of futile picking at his claim, he came up with a "big idea."
Read More ...