GrowFL gives small firms resources of big companies
The Sarasota Herald Tribune looks at Economic Gardening results in Sarasota County. Read more …
Related Articles...
Led by Good Capital Co. of New York and Knightsbridge Inc. of Chicago, an investment group purchases the clay division of ELI.
Read More ...
Consider profit sharing as a way to keep employees happy, interested and motivated. Their personal "ownership" of your company will return rewards to everyone. Here we give you profit-sharing choices (other than stock options), and the pros and cons of each.
Read More ...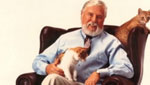 When I invented Kitty Litter in 1947, being an overbearing boss was the last thing on my mind. Quite simply, there was nobody to boss around. Employees weren't even a pipe dream back then — I was often using the proceeds of a sale during the day to pay for my hotel room that night. From bagging the clay to changing countless litter boxes at pet shows to demonstrate my product's prowess, I did it all myself. It would have been great to have help — especially for the litter boxes!
Read More ...