Quick Links:
Return To Entrepreneur's Resource Center
Moving Closer to the Talent Pool
Digital Library
>
Operations and Technology
>
Site selection
"Moving Closer to the Talent Pool"
Relocation boosts staff by 50% in two months.
Sometimes companies have to uproot to grow stronger.
Scott Loughmiller, Jeff Ready and Ehren Maedge quickly discovered this truth with their Indianapolis-based Aureate Media, which inserts advertisements into free Internet software that is downloaded by users in exchange for demographic information. Clients make more money by allowing ads to be displayed in their software than by charging a registration fee. Aureate, in turn, receives a commission for selling and servicing the ads.
The company grew like wildfire. Ads mushroomed from a monthly rate of 200,000 to 200 million in just two years, and annual sales now exceed $10 million. But there was one problem: Aureate's Midwest location quickly became a liability.
The fast-track company needed to add staff. And though skilled technology workers were graduating from nearby schools, there were few veterans. Importing talent didn't appear to be an option: "No one was interested in moving to Indianapolis," explains Jeff Ready, Aureate's vice president of marketing.
To keep the momentum building, recruiting talent was crucial. "In a software company, your assets are people," says Scott Loughmiller, Aureate's vice president of R&D.
The Midwest also was proving detrimental from the customer side. With Aureate's client base located almost exclusively in California, the three founders were spending considerable time and money on plane travel. "Business is face to face," says Loughmiller. "I don't care how wired the world is, you still have to get out and talk with people."
Aureate decided to pull up stakes and move to Silicon Valley, despite the costs and chaos that relocation would bring.
The bill for the physical move ran between $200,000 and $300,000. But salaries also had to be adjusted upward to accommodate the West Coast's higher cost of living. Aureate also faced pricier commercial real estate — about triple its Indianapolis rent.
Other challenges included finding service providers. With so much venture capital floating around, competition is fierce, says Ready: "Everyone wants the best lawyers and accountants. You have to sell them on taking you on."
Keeping Chaos to a Minimum
"One thing we did right was to get about 90% of our people to go," says Loughmiller. Moving is disruptive enough; having to rebuild the ranks from scratch could have been disastrous.
To keep loss of productivity to a minimum, Aureate moved in two "waves," with half the group going in December and half following in January. One plus: Most of Aureate's young staff were renters, and having little real estate to sell accelerated the process.
From a human resources perspective, the relocation has exceeded expectations. "In Indianapolis, I was lucky if I saw three good resumes in a month's time," says Loughmiller. "Now, every resume that crosses my desk is good." Aureate hired nine new employees during the first two months in Mountain View, Calif., and plans to have a total of 80 employees by the end of the year.
"It's a good thing we moved when we did," adds Ready. "We were still small enough from a core team standpoint." Had Aureate waited six months, there might have been 60 families to move instead of 18.
Just being in Silicon Valley enhances Aureate's credibility, adds Ready: "We've had people laugh on the phone when we told them we were from Indianapolis. They thought we were kidding."
Peer Contact: Jeff Ready
Writer: TJ Becker
Related Articles...
An increasing market for customized products, mass customization, is reported, with discussion of customer demographics and examples of new producers of mass-customized products.
Read More ...
Good ergonomics makes for happier, healthier, more productive people and that translates into improved profits for your company.
Read More ...
PR exec Katharine Paine wins with persistence.
Read More ...
A procedures manual for your company protects you from trusting too much in particular employees to operate your business, serves as a guide for new trainees, and provides an emergency recovery plan.
Read More ...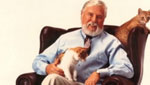 This may be the last thing on your mind right now, but unless you're carried out in a box, all entrepreneurs eventually must leave what they started. That's what I did after more than 40 years at the helm of what became Edward Lowe Industries. I unearthed the cat-box-filler industry, and maybe some people expected me to be buried in it. But in a move that surprised many who knew me, I sold it.
Read More ...