Quick Links:
Return To Entrepreneur's Resource Center
Once is Not Enough
Digital Library
>
Building and Inspiring an Organization
>
Management development
"Once is Not Enough"
Ann and Edward "Ski" Olesky took FastTrac in the late nineties, and were so pleased that they repeated the program a few years later.
Ann and Edward "Ski" Olesky took FastTrac in the late nineties, and were so pleased that they repeated the program a few years later.
The Oleskys operate Lake Trafford Marina, a fishing camp and retail store in Immokalee, Fla. The couple first bought into the marina in 1975, becoming sole owners in 1989.
A friend recommended FastTrac, but the couple was lukewarm about signing up for two reasons. An hour's drive away in Naples, the program represented a considerable time investment, and the Oleskys, in their mid-50s, envisioned other entrepreneurs as twenty-somethings launching dot-coms.
Yet when the Oleskys walked into the first session, they were pleasantly surprised by the diversity: "There were people from all age groups and walks of life," says Ann. "Some had startups; others had companies they had operated for many years just like us."
FastTrac inspired the Oleskys to flip their entrepreneurial perspective 180 degrees. Instead of seeing Lake Trafford Marina as a stable, lifestyle business, they envisioned serious growth for the first time. "For 20 years, we had run a successful, unsuccessful business," Ann explains. "We made ends meet — but we didn't have a solid vision. FastTrac gave us that vision."
The Oleskys wrote a business plan — their first — and began to put newly acquired skills into action that led to annual sales increases of 25%-50% in each of the past 7 years. How did they do it?
Finances. Now savvier about tracking and analyzing financial reports, the Oleskys changed processes. To better track expenditures, for example, they began to pay vendors with checks instead of cash. That created a clear paper trail of spending.
Merchandising. Display of merchandise in their store became much more important. "Before it was haphazard," Ann explains. "Now merchandise is highly organized, so when customers walk in, they intuitively know where to go."
Purchasing. Instead of buying according to personal preferences, the Oleskys began to query suppliers carefully about how well items were selling for other merchants before placing orders.
Advertising and promotion. The couple gleaned free publicity by participating in fishing reports for local newspapers and radio stations. They also took advantage of co-op advertising and cross promotions. Example: For a small investment of $200, Lake Trafford Marina is included in the information kiosk at a nearby shopping mall. In exchange, the Oleskys pass out brochures about the mall. Almost immediately, Oleskys saw a dramatic increase in business.
This spring the Oleskys launched a second business, Airboats and Alligators, which provides guided tours of Lake Trafford. The new business was one reason they took FastTrac again. "We learned even more the second time around," Ann says.
"You can also apply what you learn from FastTrac to other aspects of your life," Ann adds. The program has given the couple more confidence in business and community activities. For example, Lake Trafford experienced a fish kill a few years ago, caused by a buildup of algae that died and depleted oxygen from the lake. Since then, the Oleskys have become heavily involved in environmental issues, and Ann was even appointed to the governor's task force for sustainable growth in Florida.
Networking with other FastTrac participants is also a big benefit, Ski adds: "You learn about other people's business. Even though it may not directly relate to your business, it gives you insights as to what might work for you."
"Who knows? We'll probably take FastTrac again," Ann says. "You pick up something new every time."
Writer: T.J. Becker
Related Articles...
Thinking of asking your best friend to join you in growing your business together? Better think again. With some planning, conflict in your business needn't lead to the end of a long-standing relationship. Learn to evaluate potential partners, plan for problems and tackle whatever arises.
Read More ...
"Armstrong's Secret Weapon: Creativity" When advised to "loosen up," a sales manager at Armstrong International dreamed up an imaginative Christmas card: He was photographed in a Santa Claus suit sitting on a pump trap — one of the company's core products.The card generated more response from customers than had a previous promotional mailer, prompting the manager to continue the creativity.
Read More ...
Digital Library > Human Resources Management > Employee development "Bringing Online Education to Employees" If you can't send your employees to school, bring school to them. Nearly half of all U.S. colleges and universities now offer classes taught by audio, video or over the Internet, according to a new U.S. Department of Education study. Between the school years 1994-95 and
Read More ...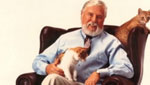 Remember Chicken Litter? I'm not surprised; it got about as far off the ground as a hen in flight. But without it, there might never have been a Kitty Litter, which revolutionized life for pet owners and earned me more than a few dollars in the process.I was in my 20s, laboring in my father's sand and gravel business, and chafing to climb out of the rut we seemed to be in. When my father started buying crumbled clay to use as an industrial oil and grease absorbent, I looked for other ways to use the material. One day, I was talking to a guy about nesting chickens, and the Big Idea kicked in.
Read More ...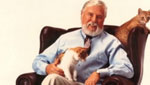 How Enterprise Rent-A-Car uses customer satisfaction to drive profits
Read More ...