Quick Links:
Return To Entrepreneur's Resource Center
A smile a day keeps bankruptcy at bay
"A good temper and a happy mood will show up in your bank account." — Ed Lowe
Our panel of entrepreneurs responds …Whistle while you 'work'We make bread every day. We enjoy what we do, and our customers appreciate the fact that we do it. It's hard not to smile when you think you're getting paid to do this.
Sure, in our business there are folks who are difficult — customers who pay slowly, order late, complain incessantly. But we've consciously decided not to spend the majority of our time on these people. Instead, we focus our energies on the good ones — the customers who know we take the art of baking quite seriously, but understand we have fun doing it.
Our love for our craft and dedication to it breeds a confidence level in the bakery that has become infectious. We can relax and enjoy ourselves because we know what we're doing. And our customers return again and again because they believe it as well. — Josh Allen, president,Companion Baking Co.
The human side of change
Pain is often the result of efforts to undertake large-scale change. Mapping out changes on paper makes accomplishing the changes look simple, but all too often no one anticipates how the human beings involved might react to change.
To ignore or underestimate the people component of change is to court disaster. This begrudging acknowledgment represents an important leap forward in thinking. Unless the human element of change is well managed by enlightened leaders, an organization's long-term capacity for creating wealth could be damaged. The evidence now points clearly to a link between the change process and the bottom line. If you don't manage one, you don't get the other. — Ellen Bolsch, president and CEO, Island Care Inc.
You build it, you live it
Every day business leaders are faced with new and challenging issues, and our temperament is the barometer by which colleagues, employees and team members measure our reaction. Our demeanor sets a general tone that defines a company's culture and, in many ways, determines if a company can achieve its goals. A strong culture encourages steady, reliable and clear thinking, while temperamental outbursts breed fear, instability, anxiety, bullying and irrational behavior. Most — and usually the best — employees will quit a team to find a better and happier home. I can't help but be reminded of the expression, "You live in the house you build." Regardless of success, if everyone in a company is unhappy, even its leaders will be unhappy. — Neal Silbert, president, The Planet Group Inc.
Worker see, worker do
It amazes me that employees observe everything you do. Being aware of this is crucial to creating the desired culture at your company. Your staff reacts to the way you conduct yourself and, in turn, responds accordingly to co-workers and customers. If you, as the CEO, are short with employees, you have just demonstrated how to handle a customer.
Achieving a positive attitude is an everyday task that needs commitment from the CEO and staff. — Janet H. Mug, president, People Resources Inc.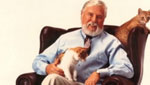 his column is one in a series that invites contemporary entrepreneurs to agree, disagree and generally reflect on some of the beliefs of Edward Lowe, the entrepreneur who "brought the cat indoors" with a revolutionary cat-box filler, Kitty Litter, and created an entirely new industry. Even after his death, Ed Lowe's unadorned advice continues to stimulate dialogue among other successful entrepreneurs.
Related Articles...
Digital Library > Defining and Serving a Market > Target marketing "More Tales From the New Economy" Entrepreneurs speak out on the changing nature of their businesses: Used Musical Instrument Store: "eBay, Harmony Central, Musician's Friend and other Internet auction sites have hurt us. There still are those customers that must feel and play before buying, and we obviously cater
Read More ...
Michael Powell is just the sort of guy you'd expect to see prowling through some dusty corner bookstore on the hunt for a book.
Read More ...
CEO's of most of America's fastest-growing companies view business information about major competitors as important to their profit growth. But fewer than three in four have a formal, clearly-articulated internal policy protecting against the loss of privileged information about their own business.
Read More ...
Digital Library > Building and Inspiring an Organization > Planning, general "Extreme Measures — When No Plan Is the Best Plan" In preparation for an extended sailing trip, business owner Tom Richman meticulously plotted charts, outlining an ambitious schedule of times, ports and dates. "With firm control — that's how I ran my professional life. Not surprisingly, that's how I
Read More ...
You've heard of JIT to use warehouse space better and to deliver goods to customers more efficiently. Can it work for your operation? How do you implement it?
Read More ...