Quick Links:
Return To Entrepreneur's Resource Center
Plain Talk from Ed Lowe — To Thine Own Self Be True
"Your first partnership is with your own conscience, so evaluate yourself often." — Ed Lowe
Our panel of entrepreneurs responds …Balancing values and behaviorI believe that Lowe assumes man to be of good conscience by nature, but occasionally out of touch with that conscience, especially when coping with conflicting dynamics in his personal life or in the corporate world.
Beginning with his earliest struggle for survival down to the present challenges of globalization, man has fared much better when acting in unison or partnership with others who share his values and aspirations.
This is also true of successful marriages and of our partnerships as parents, where we share responsibility and high hopes for turning our kids into great adult citizens.
Successful partnerships require harmony and balance between values and behavior. And because values and behavior may not always be reconciled without some soul searching, we are well advised when Lowe teaches us to "evaluate yourself often."
Without what he calls the first of all partnerships, in which each of us revisits — or essentially partners with — our own conscience in order to guide our interactions with others, no other partnerships can be sustainable.
— Jim Stoynoff, CEO, Damian Services Corp.
Believe in what you do
In our agency, integrity has always been as revered as creativity. After 26 years in the business, we're known as a shop that produces good advertising — an achievement any agency would be thrilled with. But it's our reputation for being a group of good people that I am most proud of. We treat each other — and our clients — well. We put our best effort into everything we do. And we do work we believe in. That has made all the difference.
— Frank Grady, CEO, Grady Britton Advertising
Remember Mom
Many folks who work in the financial-services and real-estate industries seem to have a "me first" mentality. There are insurance salespeople who sell unnecessary policies, realtors who sell overly expensive homes and others who commit similar wrongs. These individuals can certainly put more money in their pockets in the short term. But what is the long-term cost on their wallets and their consciences?
In my business, I've always followed one rule of thumb: I strive to treat every client as if that client was my mother. (For the record, I love and respect my mother a lot!) In me, she instilled a sense of ethics, values and morals that I utilize in my business and personal lives on a daily basis. Not only does this allow me to sleep easy at night, but doing business this way has allowed me to grow my business and generate a great amount of referral business from satisfied clients.
— Mike Leland, CEO, Mortgage Trust Inc.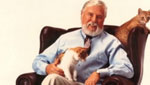 This column is one in a series that invites contemporary entrepreneurs to agree, disagree and generally reflect on some of the beliefs of Edward Lowe, an entrepreneur who "brought the cat indoors" with a revolutionary cat-box filler, Kitty Litter, and created an entirely new industry. Even after his death, Ed Lowe's unadorned advice continues to stimulate dialogue among other successful entrepreneurs.
Related Articles...
Read More ...
In order to be an effective tool, a brochure must be read and get the intended action you desire. This guide takes you through a step-by-step development of a sales brochure highlighting the essentials for an effective brochure, alerting you to the pitfalls to avoid, and designing the brochure to hold a customer's attentionq
Read More ...
Barbara Mulkey puts family first — and her business profits.
Read More ...
Get your biggest profits by ditching your biggest client? It may sound crazy but that's exactly what Julia Zimmer did.
Read More ...
"In Need of Expansion Capital? Consider Other People's Money" The biggest barrier to expansion faced by today's small businesses is capital. Entrepreneurs using traditional forms of capital acquisition have only two options: debt or equity. However, they would be wise to consider franchising because it allows them to expand without the risk and lack of availability of debt or the
Read More ...