Quick Links:
Return To Entrepreneur's Resource Center
The Makings of a Great Leadership Team
Digital Library
>
Building and Inspiring an Organization
>
Teams
"The Makings of a Great Leadership Team"
Three key differences are what count, according to a recent study by the Hay Group, a worldwide management consulting firm, and researchers from Harvard University. The study revealed that outstanding leadership teams share a number of characteristics:
They are real teams, characterized by having clear, stable boundaries and interdependent team tasks that actually affect the work each member does and the direction and resources used to get there.
Team leaders focus on the conditions necessary for team success. This leader may not necessarily have acharismatic style, but is skilled at linking team purposes to those of the broader organization, mobilizing people to achieve those purposes and holding them accountable for doing so, and creating organizational conditions that facilitaterather than impede competent teamwork.
Team members are emotionally intelligent, rather than just the smartest-of-the-smart. These members often are not the most extraordinarily analytical or conceptual thinkers motivated by achievement, initiative and strategic orientation or self-confidence. However, they are more than twice as capable as members of poor leadership teams at reading others' concerns. In addition, members of outstanding leadership teams can be counted upon to do what they say they will do, and at least one member will exhibit the integrity to do something for the good of the company, even when it requires a personal sacrifice.
For more information visit www.haygroup.com.
Writer: Tom Truman
Related Articles...
Learn how to put a sharper edge on your influential abilities and push your listeners to action.
Read More ...
Digital Library > Defining and Serving a Market > Advertising, general "Tap the Co-op Fund" Co-op advertising programs are a cost-sharing arrangement between manufacturers and retailers to stretch advertising dollars. Collectively, manufacturers earmark about $30 billion annually for co-op ads. However, much of the money goes unused, reports the Yellow Pages Publishers Association (YPPA). Co-op opportunities are available in every
Read More ...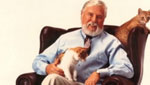 nce after I spoke at a college commencement ceremony, a young graduate approached me with a question. "Mr. Lowe," she asked, "since you've become a successful entrepreneur, I'd like to ask your advice about a venture I have in mind." Of course, I lent her an ear."I'd like to set up a dry-cleaning business," she explained. "In Paris."
Read More ...