Our panel of entrepreneurs responds …Better, faster, smarter
When I read this quote, I immediately recalled the beginnings of my business (which trains people to become professional coaches). I began with five individuals, training one at a time over the phone.
After using this tedious, extremely labor-intensive process for awhile, it dawned on me that I could train hundreds of people at once by using technology and a telephone bridge line, which opens a line for a high volume of simultaneous users.
That's how I created Comprehensive Coaching U: I recognized that my idea had a potential market — and found a way to do it better, faster and smarter. Sometimes we just have to get started on something, even though we might not be sure where we are going. I go with my entrepreneurial gut and find that it usually leads me to create income. Follow your ideas; just keep them focused. —Terri Levine, founder,Comprehensive Coaching U
Modifying business
As an adjunct to my core business (ticket provider for major concerts, sports and theater events), I started a proprietary software company called Realtime Ticketing about a year ago. We were struggling to raise funds, so we met with our advisory board to consider alternatives. They suggested that we alter our strategy to enable any broker to benefit from our software for a fee.
With this modification, our idea has really taken off. We renamed the company EventTixx, and on the strength of its income potential, we have just received VC funding for $1.5 million.
The software is nearly completed; we have brokers lined up to use EventTixx software, and we are working with Travelocity and Cox Interactive Media to get our software on their Web sites. — Randy Cohen, CEO, TicketCity.com
Twisting an idea
In 1996 I tried to start an educational day-trading service. I had been fairly successful teaching students in a one-on-one forum, but growth was limited because I could only teach a certain number of students per month. I felt that I had "discovered fire," but couldn't create enough volume to make it worthwhile.
I had almost decided to give up when I stumbled across a new forum: Internet chat rooms. Chat rooms allowed me to teach hundreds of traders from all around the world at one time, instead of just a handful.
By being persistent and trying a new twist on my idea, I turned my once-failing business into one of the largest, online educational-trading corporations on the Internet. Best of all, it enabled me to continue my passion for teaching. — Ken Wolff, CEO, MTrader.com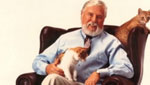 This column is one in a series that invites contemporary entrepreneurs to agree, disagree and generally reflect on some of the beliefs of Edward Lowe, an entrepreneur who "brought the cat indoors" with a revolutionary cat-box filler, Kitty Litter, and created an entirely new industry. Even after his death, Ed Lowe's unadorned advice continues to stimulate dialogue among other successful entrepreneurs.