Environmental mission
Dan Wyant, President and Chief Operating Officer
In addition to supporting entrepreneurship, the Edward Lowe Foundation has a mission of environmental stewardship, reflecting Ed Lowe's great love and respect for the land.
Big Rock Valley (BRV), the foundation's headquarters, draws its name from the large number of boulders left by receding Ice Age glaciers. The property began with a 160-acre parcel that Ed Lowe purchased in 1964, and today BRV comprises 2,000 acres of woodland, farmland, wetland and prairie.
Because of its different landscapes and ecosystems, BRV has a wide variety of flora and fauna. Indeed, species inventories show that BRV is home to more than 700 plant varieties, 100 bird species and 30 varieties of amphibians and reptiles. "Nurturing these diverse native populations is one of our main priorities — with particular attention given to threatened and endangered species," says Mike McCuistion, the foundation's vice president of physical resources.
Woodlands
BRV has about 700 acres of woodlands, comprised of maple, beech, oak, hickory and black cherry and other varieties of northern mixed hardwoods. Although the woodlands are primarily managed for diversity and sustainability, about 100 acres are dedicated to old-growth woodlands.
Wetlands
BRV features about 500 acres of wetlands, which includes a 10-acre lake, ponds, streams,  calcareous fens and a lakeside fen, and marshes. The area's many natural springs provide abundant water flow to these wetland areas, ensuring an influx of fresh nutrients and a healthy ecosystem.
Grasslands
Prairies were once widespread in southern Michigan until the 1800s when European settlers converted this ecosystem to agricultural land. Experimental patches of prairie grasses were started at BRV in 1994, and today the foundation has about 200 acres of prairie land, with about 100 different species of grasses and flowering plants.
Research projects at BRV
In addition to its own land stewardship initiatives, the foundation also makes BRV available to academic researchers and environmental organizations.
Habitat enhancements
Maintaining BRV's biodiversity calls for a number of habitat enhancement initiatives, including prescribed burns, which prevent savanna, prairies and even wetlands from reverting back to mixed-hardwood woodlands, which is the climax ecosystem in southwest Michigan.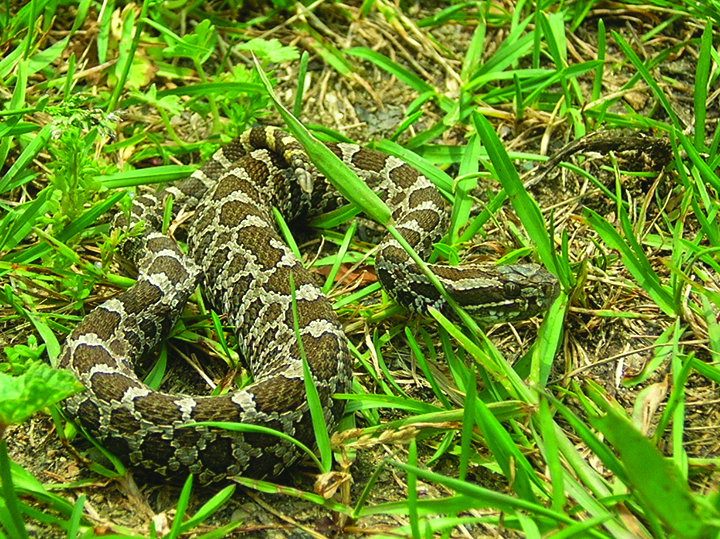 Eastern Massasauga Rattlesnake
Sistrurus catenatus catenatus
Listed species
BRV is home to many species that are listed as endangered, threatened or of special concern. Among these are:
Cerulean warbler

Spotted turtle

Blanding's turtle

Eastern box turtle

Golden seal

Ginseng

Showy lady slipper orchid

Eastern massasauga rattlesnake

Black rat snake

Cut-leaved water parsnip