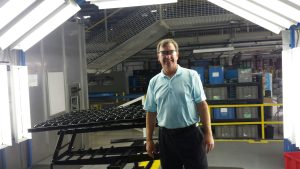 Richard Rogers calls PeerSpectives a "good investment of time"— no small praise as time is a scarce resource for him. As president of American Autocoat, a supplier of automotive finishing and injection molding services, Rogers is busy growing his Hudsonville, Michigan-based company, which now has more than 100 full-time employees.
"As a CEO, there are many groups that you could join," says Rogers. "You need to pick and choose what fits you."
When it comes to roundtables, PeerSpectives is not Rogers' first rodeo. In 2011 he was attending another executive roundtable when a friend recommended PeerSpectives. "PeerSpectives is more in depth and has more structure," Rogers says, referring to the roundtable's protocol for selecting and discussing issues. "And compared to the other roundtable, PeerSpectives is a smaller group that meets for a longer timeframe. As a result, we've gotten to know each other's personalities and better understand how to help each other."
The diversity of talent that roundtable members possess is a big plus for Rogers. "For example, I'm getting face-to-face exposure to sales and accounting issues — areas that I'm currently working on — and that's where the group helps me fill in gaps," he says. "Members have described how they structure commissions for salespeople, how to model quote processes, and how to interview new customers to ensure that they're a good fit with corporate culture."
On the flip side, Rogers has expertise in systems and business planning. "One of our strengths is our systems," he says, "and I've been able share some of that structure with other roundtable members." In addition to tactical and strategic business issues, PeerSpectives members also share their experiences with:
Financial institutions — which banks are really genuinely interested in working with entrepreneurs. "That's not something you can get anywhere else," Rogers points out.
Technology — how specific software and applications have either helped or been a distraction and poor investment.
Books and seminars — which ones are truly beneficial and which ones to avoid.
Despite the many benefits of the roundtable, Rogers admits that he considered calling it quits in early 2015 due to an exceptionally time-crunched schedule. "I had missed a couple of meetings and thought, 'I'm really busy, and my business is growing. Maybe I don't need to go anymore.' " Because he felt such a close connection with the other members, Rogers wanted to say good-bye in person, so he went to the next roundtable meeting. Yet by the end of session, he decided he wasn't ready to throw in the towel.
"I really enjoy these sessions. They are dynamic and energizing," he says. "You see others are going through struggles — issues you may have already gotten through — and you want to see them come out the other end. In addition, when new people come into the group, it reinvigorates us. You can always learn something new from them."
Copyright © 2015 by the Edward Lowe Foundation Case study: American Autocoat
Related Articles
---
---
---
---
---
---
PeerSpectives ® Case Studies

[sgmb id=2]
The PeerSpectives Roundtable System (PRS) gives business associations and professionals who cater to entrepreneurs a new service offering.

PeerSpectives sets itself apart from other CEO roundtables with its methodology. Procedures are in place to help the group focus on identifying and processing an entrepreneur's core issue. The protocol ensures a balanced discussion that is not dominated by any one topic or individual. Perhaps even more important, the PeerSpectives system emphasizes the sharing of experiences rather than advice giving.