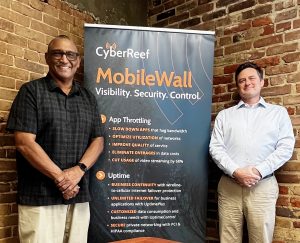 Based in Shreveport, Louisiana, CyberReef provides security and data bandwidth management solutions in the cellular space. The fast-growing company has benefited from several rounds of strategic research hosted by Louisiana Economic Development and the Edward Lowe Foundation. Here is a quick look at CyberReef's recent engagement in the foundation's System for Integrated Growth (SIG), which enables second-stage companies to work with subject-matter experts on specific growth issues.
Research focus and rationale — CyberReef wanted to identify mobile virtual network operators (MVNOs) — telecom middlemen that lease wireless network capacity from major network carriers and resell it. CyberReef's new TrafficIQ technology enables its customers to optimize mobile networks and reduce data consumption by more than 50% — without end-users noticing any difference in quality.
Although his company's technology also benefits major carriers, CyberReef CEO Hilton Nicholson believes MVNOs have incentive to come on board more quickly as customers. "Many MVNOs are going after consumers with fixed wireless access (FWA) plans over the cellular network," he explains. "There are problems with that, because the cell towers used for FWA are also used for phones and tablets, so it's a limited resource. Also, what MVNOs are charging for FWA is probably at or below their costs."
Bottom line, MVNOs won't make money with the FWA plans unless they can control how much bandwidth their customers to use. This is where CyberReef's technology comes into play, enabling MVNOs to slow down specific high-bandwidth applications in a variety of ways.
Research deliverables — To help CyberReef identify MVNOs best suited for its TrafficIQ solution, SIG team members provided a variety of information:
A list of more than 50 MVNOs to target, along with their location and contact information.
Geographical maps that highlight potential coverage for MVNOs based on the network carrier they lease from — enabling CyberReef to see how strong each carrier's coverage is across the United States, down to the street level.
Suggestions on how to use LinkedIn's Sales Navigator to drill down deeper into the list of MVNOs to find the right contacts and look for other prospects within the MVNO industry.
A list of conferences that MVNOs attend, several that CyberReef wasn't aware of.
A "listening post" on Feedly.com that aggregates news articles about MVNOs and industry trends into one space.
Feedback from CyberReef — "It's been a great experience," says Michael Herzog, CyberReef's director of sales operations. "We saw value in every meeting that we had with the SIG team."
Although it's early days to cite specific results, Herzog says the SIG engagement has given CyberReef's sales team new prospecting data and tools. "For example, we've used LinkedIn before, but probably not as effectively as we could," he points out. "This was like getting a master class in how to use Sales Navigator."
Herzog also notes that experience from CyberReef's previous SIG engagements enabled them to use the researchers more effectively. "In the past our requests were much broader, such as targeting the entire education industry with a security solution," he explains. "We've learned that the more granularly we target, the more successful we can be."
"SIG is a very valuable tool, and that LED is making it available to us and other small businesses throughout Louisiana is amazing," says Nicholson. "I'm always impressed with what the specialists show us. What we've received is more than enough for us to take the next steps on our own. Now, the ball is in our court."
(Published March 29, 2023)
Related Articles
---
---
---
---
---
---
System for Integrated Growth® (SIG)
The SIG® program is delivered virtually through a series of phone calls and a secure, online portal. Recognizing that second-stage entrepreneurs know their businesses better than anyone else, SIG specialists don't dictate a particular course of action. Instead, they provide information and education to help CEOs make better decisions. In addition to being experts in their respective fields, SIG® specialists operate under the guidance of the Edward Lowe Foundation to optimize their assistance to second-stage growth companies.