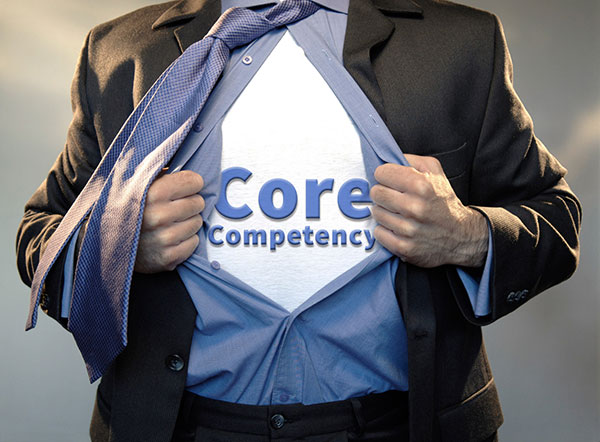 By Dino Signore
There are many definitions of success. But to me, success in business means separation from the competition. And one of the best ways to do that is to develop core competences. The concept of core competencies was introduced to management literature in 1990 by C.K. Prahalad and Gary Hamel. They defined it as "an area of specialized expertise that is the result of harmonizing complex streams of technology and work activity."
In other words, a core competency doesn't just mean that you're good at something. It's about bundling your capabilities, resources and organizational knowledge in some way to create a super power of sorts. The recipe varies among management pundits, but in my opinion, there are four key criteria:
It's valuable. (It either solves a customer's problem or adds to the experience.)
It's rare.
There is no substitute.
It's costly to imitate.
It's important to note that the first two criteria are filtered from the customer's perspective, and the last two from the competitor's perspective. It's not about your point of view.
I remember taking my two daughters to Disney World when they were about 4 and 10 years old. This involved a 20-hour road trip from Michigan to Orlando, hauling not only an immense amount of luggage and travel snacks, but also my daughters' extensive collection of stuffed animals, which my wife and I referred to as "The Stuffies." (This was the era of Beanie Babies, so we're talking about 50 or 60 Stuffies.)
Anyway, on the first day, after coming back from the rides to our hotel room, we found the Stuffies had been placed on a table, arranged in a circle as if they were eating dinner. My daughters were wild with delight. "The Stuffies are having dinner!" they cried. The next day we found the Stuffies had been arranged in small groups on the bed, as if they were playing games. The girls were even more enthralled. The Stuffies had enjoyed a good meal, now they're having fun. Each day we spent at the park, the girls couldn't wait to get back to the hotel to see what the Stuffies were doing.
To me, this is a great example of one of Walt Disney Co.'s core competencies: customer delight. Even though the person who cleaned our room had never met my daughters, he or she cared enough to create a special experience for them. This goes way beyond a mint on your pillow at night; it truly extended the sale. Years later, the adventures of the Stuffies is what my daughters remember most about our trip to Disney World — despite the hundreds of dollars I shelled out for rides and food.
Core competencies are not easy to develop. They take time. But it's time well spent. For one thing, it provides you with a competitive advantage. They also help you identify what to invest in or outsource, develop new products and services, and move into new markets.
Take J.D. Lindeberg, president of Resource Recycling Systems (RRS), an Ann Arbor, Mich.-based consulting firm with about 35 employees and $5 million in annual revenue. When RRS launched in 1985, it focused on the "recovery" or supply side of the market by setting up recycling programs for nonprofit and municipal clients.
More recently, RRS has been able to move into a different part of the recycling market, which Lindeberg calls the "demand" side. This involves large companies that want to buy recyclable materials because they're more available or cheaper than other resources. It also include companies that have made a commitment to have certain percentage of recyclable materials in their products and need to make sure those claims are valid.
To serve this new market, Lindeberg and his team are tapping vast databases the company has built over the years and creating proprietary solutions. One example is TruCycle, which provides a detailed analysis of how easy a company's product is to recycle. In a nutshell, TruCycle evaluates end markets of the recycled material, how easy it's handled in a recovery facility and where the material is accepted by community recycling programs.
TruCycle alone isn't going to double RRS' revenue, Lindeberg says, but he likens the product to a "gateway drug" that gets his company in front of potential clients and showcases its core competency: a blend of in-the-trenches experiences and problem-solving acumen. Larger consulting firms may have more resources, "including MBAs they've pulled out of school with long list of credentials," Lindeberg says. "Yet we pursue concrete, tactically oriented projects where the newly minted, no matter how bright they are, are not adept at understanding what it takes to get an extra 100,000 tons of PET [polyethylene terephthalate] bottles out of national recycling programs. We do."
RSS is a perfect example of how a core competency doesn't happen overnight. Indeed, most large companies only have three or four. Young companies may not have developed any yet.
So how do you get started? Identify what you're really good at. I recommend using Michael Porter's value chain model, which isolates five primary activities (inbound logistics, operations, outbound logistics, marketing and sales and customer service) and four supporting activities (firm infrastructure, HR management, technology development and procurement) that most companies have.
Go through each piece of the value chain and try to isolate what you're really good at. Maybe it's how you handle receiving and warehousing (inbound logistics). Perhaps you do something exceptional in operations or getting the products out the door that adds value. Maybe your strength is a combination of activities. Or you might have three of the four components in some area and can build out the final piece. Remember, whatever you think your core competency is, it has to pass all four filters.
Granted, developing a core competency takes time and investment. But here's the good news: You're in the driver's seat. With external challenges likes industry forces, business owners don't have a lot of control except how they react and adapt. Yet when it comes to core competencies, you're fully in charge.
That's important, because developing a core competency — or hopefully more than one — is just the beginning. Your next challenge: How do you keep making your current core competencies more potent?
Originally published Oct. 17, 2014, on Inc.com (http://www.inc.com/dino-signore/how-to-develop-a-killer-core-competency.html)
Related Articles
---
---
---
---
---
---
Dino Signore, PhD
Manager of Entrepreneurial Education
|
[sgmb id=2]
Second stage is an important inflection point for entrepreneurs, says Dino Signore, the foundation's manager of entrepreneurial education. On the plus side, second-stagers have a proven product or service under their belts and have attracted initial customers, so survival is no longer a daily concern. Yet as they strive to gain a stronger foothold in the market and win more customers, second-stagers now face more strategic issues, such as building infrastructure to scale, honing their competitive edge and expanding into new markets.