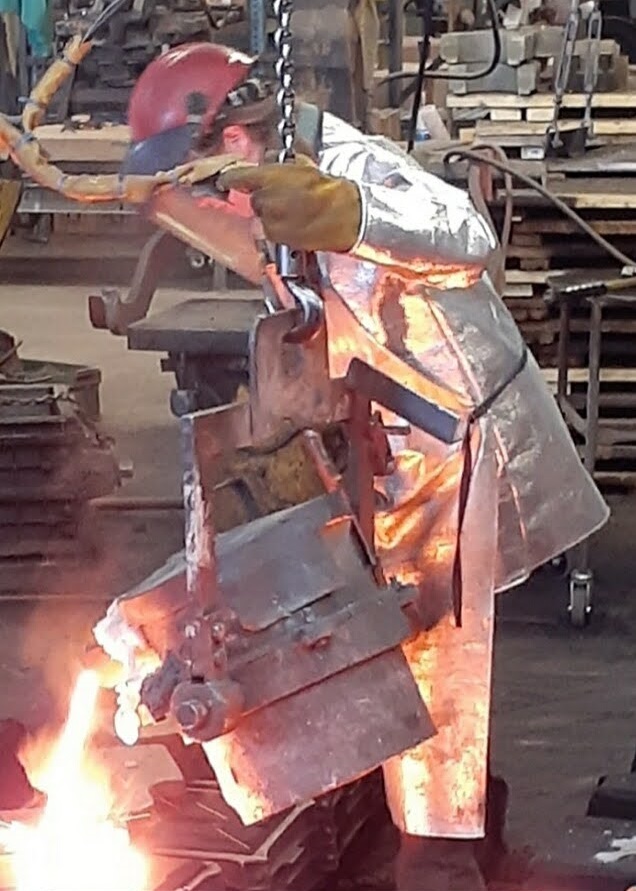 Marcellus Metalcasters is a diversified Michigan foundry that specializes in low-volume production of parts under 500 pounds, which can range from vintage light fixtures and frying pans to pipes that transfer hydroelectric power. In 2019 founder Andy Abrams sold his 21-year-old company to Caitlin McMahan and Brad Ade, two young engineers who wanted to scratch their entrepreneurial itch. While continuing Abrams' legacy for high-quality work, McMahan and Ade have been working hard to grow the business.
To expand Marcellus Metalcasters' physical footprint in southwest Michigan, in 2022 McMahan and Ade purchased a 23,000-square-foot facility in Bangor. They also acquired an Ohio-based company that makes foundry equipment and are moving its production to Bangor. "We used to buy equipment from them, and now we're able to make it for ourselves as well as selling to other foundries," McMahan says.
Another 2022 milestone for Marcellus Metalcasters was being recognized as a Michigan 50 Companies to Watch (CTW) honoree, which has enabled the company to participate in a variety of programs co-hosted by the Edward Lowe Foundation and the Michigan Economic Development Corp. (MEDC). Among these, McMahan attended a three-day leadership retreat for CTW awardees at Big Rock Valley, the foundation's learning campus outside of Cassopolis, Michigan.
McMahan admits she almost didn't go to the retreat. "It's hard for me to network and put myself out there — and I was afraid it might be hokey," she says. "Yet the retreat was an incredible, eye-opening experience."
"Being a business owner is lonely; your friends and family do not understand the stress and the challenges," she explains. "At the retreat, however, I was able talk about my business with other people who get it. Making those connections was very powerful."
The retreat included business owners from Florida as well as Michigan, and McMahan appreciated the opportunity to compare small business policies in other states. She also learned about different business tools and new ideas to take back to her company.
After the retreat, MEDC funding enabled the Michigan entrepreneurs to participate in a monthly CEO roundtable facilitated by the foundation. "The roundtable sessions help us to dive in deeper with our cohort," McMahan says. "I really look forward to these meetings. It's a group of people that can help me when problems pop up suddenly. The sharing of information and experiences has saved us some pain."
MEDC funding also enabled McMahan to access to the foundation's System for Integrated Growth (SIG), which enables business owners to work with a cadre of subject-matter experts on specific challenges. McMahan says that some of her major takeaways came from working with an HR expert. "We have fairly high turnover, which isn't unusual for manufacturing, but it's been worse in the past two years," she says. "The foundry industry is a very old industry, and not many young people are interested in entering this field, as it's thought of as dirty work. Yet we make parts that keep the world running."
The SIG specialist provided McMahan with information on new recruiting techniques and different places to reach out to potential employees. They also discussed ways to boost retention, such as investing in current staff through additional training.
Another SIG specialist compiled a list of 2,000 prospective customers for McMahan to target. "We've been fortunate to have customers come to us for their tooling, so we haven't needed to engage in formal marketing," she says. "But if there is a recession, we might need to shift gears, and I want to be ready."
The SIG engagement also included three monthly phone calls to check on progress toward her goals, which McMahan found valuable. "Knowing that I would speak to my team leader in a few days helped me focus and work on my business instead of in it," she says. "It was a reminder to go through the information I got and see what I could be implementing."
McMahan says she didn't realize how many doors the CTW award would open for Marcellus Metalcasters. "Through all the networking opportunities and all of the people who reached out to congratulate us, we have found so many resources to help us. And it continues to be a powerful experience. I'm using this knowledge every day."
— Published 7-17-2023
Related Articles
---
---
---
---
---
---
System for Integrated Growth® (SIG)
The SIG® program is delivered virtually through a series of phone calls and a secure, online portal. Recognizing that second-stage entrepreneurs know their businesses better than anyone else, SIG specialists don't dictate a particular course of action. Instead, they provide information and education to help CEOs make better decisions. In addition to being experts in their respective fields, SIG® specialists operate under the guidance of the Edward Lowe Foundation to optimize their assistance to second-stage growth companies.