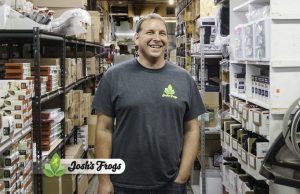 Based in Owosso, Michigan, Josh's Frogs is an online pet store that specializes in exotic amphibians and reptiles, along with habitat supplies, food and plants. Founder Josh Willard started the business in 2004 as a hobby, and then turned his attention to it full time in 2008. The company has experienced rapid growth in recent years, achieving annual revenue increases from 19% to 62% and making regular appearances on the Inc. 5000 list. "It's been a fun ride, but also a stressful one," says Willard. To ease growing pains, he signed on for an engagement in the System for Integrated Growth in May 2020.
Although COVID-19 caused revenue to plummet for many companies, at Josh's Frogs growth has continued to accelerate, with monthly sales doubling in early 2020 and annual revenue on target for $15 million. "Our goal is to be the best company we can be," Willard says. With a master's degree in counseling and a bachelor's in youth ministry, Willard describes himself as a "business owner in training" and was anxious to know what he didn't know in order to continue scaling successfully.
All SIG engagements kick off with a needs assessment call, and Willard found this session particularly helpful: "The team leader helped us identify knowledge gaps that we needed to focus on first," he says. This included managing future growth in a financially responsible way and shifts in human resources. "With 100 employees we can't be the same company we were at 50 people," he explains.
Among deliverables, a SIG specialist presented Willard and his leadership team with an overview of HR best practices to enhance organizational effectiveness and develop infrastructure that could transition Josh's Frogs to the next level. Willard says the wealth of information boosted his confidence about some recent decisions — and also enabled him to look at the business through a different lens. Some of the HR-related changes he's making include:
Expanding the leadership team to bring on new expertise.
Developing the organizational chart more thoroughly and adding support roles for information technology, HR and other departments.
More narrowly defining roles and responsibilities, including the creation of job descriptions and scorecards for all roles.
Another SIG specialist provided information about sources of capital to pursue, along with suggestions for better engaging with bankers. "One of my takeaways was that we could have negotiated harder in the past," Willard says. "I had thought that banking relationships were static; however, the SIG specialist pointed out they were actually negotiable. He also shared a lot of guidelines, such as how large a credit line to ask for, along with ideas for leveraging banking relationships to include financial expertise on an advisory board."
"We really liked the breadth and depth of information we got from the SIG engagement," Willard says. "It was like drinking from a fire hose in a way, but there was a ton of actionable stuff."
Willard and his team also went through the SIG aftercare program, which supports participants as they implement information provided by specialists. This three-month interlude was helpful, both in terms of accountability and encouragement, Willard says: "We had bitten off more than we could chew regarding what we were trying to accomplish in the first 30 days, and our team leader was really good at bringing reality to the situation. In our final call, we talked about some of the changes we've made, and our team leader was able to serve as a sounding board, sharing his experience with other companies. It was really valuable in helping understand that what we're experiencing is normal."
Compared to other types of business assistance he's been exposed to, Willard says "SIG was far more of a value-add than I expected, both from a knowledge standpoint and a relationship standpoint. Our team leader really helped us think about how we do things — and what to consider as we implement the deliverables."
Indeed, within weeks of introducing some of the HR changes, Willard says he's seeing greater traction and faster movement on projects. "I also feel more secure in navigating future challenges we'll undoubtedly encounter and being able to continue our growth cycle," he adds.
Copyright © 2020 Edward Lowe Foundation
Related Articles
---
---
---
---
---
---
System for Integrated Growth® (SIG)
The SIG® program is delivered virtually through a series of phone calls and a secure, online portal. Recognizing that second-stage entrepreneurs know their businesses better than anyone else, SIG specialists don't dictate a particular course of action. Instead, they provide information and education to help CEOs make better decisions. In addition to being experts in their respective fields, SIG® specialists operate under the guidance of the Edward Lowe Foundation to optimize their assistance to second-stage growth companies.