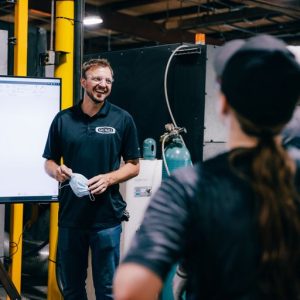 Based in Iron Mountain, Michigan, Orion Hunting Products manufactures insulated, lightweight blinds and towers that create a safer experience for hunters. Beau Anderson launched the company in 2015 in his garage, initially selling Orion's modular designs to friends. In 2019 he quit his day job as an engineer, and with the help of an investment partner, purchased a manufacturing facility. Orion has been growing quickly, and in spring 2021 Anderson entered the Edward Lowe Foundation's program for second-stage business owners in rural areas.
Conducted in Michigan in partnership with the Michigan Economic Development Corp. (MEDC), this virtual program combines peer learning with customized research. It kicks off with a virtual retreat, where participants discuss what scaling means for their companies — and their communities.
"Being able to connect with other business owners was very helpful," says Anderson. "Much of being an entrepreneur is a mindset and requires mental support. Just knowing that others at the same level of business are facing similar challenges was valuable."
In the research portion of the program, known as the System for Integrated GrowthÒ(SIG), business owners work separately with a team of business experts, who provide information and best practices on what their company needs most at that point.
Anderson's SIG engagement focused on shipping and sales. Orion's initial market was within a 100-mile radius of its Upper Peninsula headquarters. Yet the company has been expanding its geographic footprint, gaining customers in New York, Texas and the Carolinas. This meant Orion needed a different delivery system than it used in early days (often customer pick-up). Although it had established a successful relationship with a regional trucking company for Midwest deliveries, Orion was encountering high costs and unexpected damages with shippers in the East and South.
SIG researchers identified a list of potential shippers for Orion, trying to match the characteristics of its Midwest carrier. "They also helped us understand our specific needs," Anderson says. In addition, a SIG expert in supply chain management (SCM) discussed potential strategies to help Orion gain more visibility and control over its shipments, such as:
Hire or arrange for employees to be at redistribution points and conduct quality checks before final-mile deliveries.
Lease a truck and hire their own driver, which could optimize deliveries not for both its finished product and in-bound raw materials.
Make shipping a marketing tool. For example, Orion could build truckload forecasts based on region and timing of shipments; then offer discounts to dealers who order in that time frame and purchase in bundles.
Anderson says the conversations helped him explore areas he hadn't previously considered. "Part of our unique advanta­ge is being able to load more product [about three times more] on a truck than our competitors — an advantage we need to exploit," he says.
To help with sales growth, the SIG specialists provided highly detailed data about customer demographics, potential retailers and trade shows. "As a result, we decided to pivot," Anderson says, noting that Orion had been using three independent salespeople on a part-time basis. "The information made us realize we needed to be casting nets instead of developing an internal sales team to throw darts. We didn't need to be that specific." As a result, Orion switched to a sales group that sells multiple product lines and covers 14 states.
In addition to the SIG engagement, Anderson also participated in monthly roundtable sessions, which followed the foundation's PeerSpectives® protocol. Held virtually, these two-hour meetings bring the cohort of rural business owners back together and provides a confidential forum to discuss challenges and opportunities — along with insights from their respective SIG engagements.
"I felt like I got value from each session," says Anderson, noting the group discussed a wide variety of issues, from HR and operations to strategy. "In every issue, there is a spectrum of issues. Having that cohort helped me understand where the bookends and balances were." In particular, one takeaway was learning how other entrepreneurs funded their businesses during different periods of growth.
"The roundtable members don't tell you what to do," Anderson says. "Yet by hearing their experiences, you can apply some logic and gauge how your situation may be similar or different. It gives you confidence in the direction you decide to take — especially when you haven't been through a scenario before."
After wrapping up the rural cohort program, Anderson enrolled in the American Academy of Entrepreneurs, the foundation's mentoring program, also offered to second-stage business owners in Michigan through the MEDC.
"The AAE program is great," Anderson says. "Although I have a solid team to help me with operations and strategy, I don't want to take my emotional issues to them. My mentor is a different kind of sounding board. For example, I'm able to share things with him that I may be avoiding because they're difficult for me to do. The ability to unpack baggage is very valuable."
"Going through these programs has changed our mindset and been very helpful," adds Anderson, noting that Orion is on target to double its revenue in 2022. "It's great know there is help available for companies exactly like us — second-stage businesses."
As icing on the cake, Orion was recognized as a Michigan 50 Companies to Watch awardee in 2022. Presented by a consortium of entrepreneur support organizations, including the Edward Lowe Foundation, the award honors second-stage businesses for historical and potential growth. "The exposure has been very beneficial," Anderson says. "It helps bring legitimacy to the company – and it's been great for the morale of our employees."
Copyright © 2022 Edward Lowe Foundation
Related Articles
---
---
---
---
---
---
System for Integrated Growth® (SIG)
The SIG® program is delivered virtually through a series of phone calls and a secure, online portal. Recognizing that second-stage entrepreneurs know their businesses better than anyone else, SIG specialists don't dictate a particular course of action. Instead, they provide information and education to help CEOs make better decisions. In addition to being experts in their respective fields, SIG® specialists operate under the guidance of the Edward Lowe Foundation to optimize their assistance to second-stage growth companies.