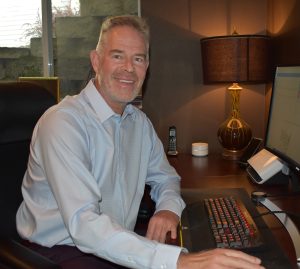 Based in Veradale, Washington, SentinelC3 Inc. is a software company that provides cost management software to connect healthcare chains with rental medical equipment. In preparation for the rollout of a new digital platform, founder and CFO Stephen Owen entered the System for Integrated GrowthSM(SIG) program.
SentinelC3's new procurement management software, known as Connect, enables transparent online billing (no need for phone calls or paper invoices), contract management and storage of HIPAA documents — all with top-shelf security. Robust enough to support thousands of facilities and distributors, Connect has a long list of user-friendly features, such as side-by-side comparisons of vendor pricing, quality of service and quality of product.
Yet after being knee-deep in development for more than two years, Owen was struggling to boil down Connect's many benefits into concise marketing messages. Another key challenge: How to market to customers during a pandemic when in-person meetings were taboo.
With that in mind, SIG specialists worked with Owen to:
Define the software's value proposition more clearly.
Assess the company's sales model.
Share online strategies to identify potential customers and reach out to them, such as using LinkedIn as a customer-prospecting tool.
Take advantage of LinkedIn Groups to find key industry hubs and their membership.
"The materials from the SIG specialists were excellent," Owen says. "They first helped us with messaging by diving deeper into who our real audience was and what customers want, which gave me an outside, objective perspective of how I think about the business." The digital marketing information was also helpful, he adds. "For example, they provided both a high-level look and details on how to use LinkedIn."
Immediately after wrapping up the engagement, Owen and his team began working on a new website with a more succinct message about how SentinelC3 can save healthcare customers time and money while also lowering risk. The website is slated to go live in spring 2021 in conjunction with Connect's official debut. Owen also plans to pursue many of the digital marketing strategics suggested by the SIG specialists. He already increased activity on his personal LinkedIn page, expanding his network from 16 to 300 connections within a few months.
Especially helpful, Owen says, was the aftercare segment of the SIG engagement, in which participants work with their team leader over a three-month period to implement deliverables. "I'm someone who needs to focus, and this helped me be more accountable," he explains.
"The SIG engagement made us very conscious of defining our direction," Owen says. "As a result, we've made changes to our software, our website, our message and even our target market." Knowing the SIG experts are available in the future is also comforting, he adds. "Businesses get stuck a lot, and when that happens, you've got to go somewhere. It's hard to find this kind of expertise at an affordable cost. The SIG team brought tremendous value about specifics, action steps and follow-up."
Copyright © 2021 Edward Lowe Foundation
Related Articles
---
---
---
---
---
---
System for Integrated Growth® (SIG)
The SIG® program is delivered virtually through a series of phone calls and a secure, online portal. Recognizing that second-stage entrepreneurs know their businesses better than anyone else, SIG specialists don't dictate a particular course of action. Instead, they provide information and education to help CEOs make better decisions. In addition to being experts in their respective fields, SIG® specialists operate under the guidance of the Edward Lowe Foundation to optimize their assistance to second-stage growth companies.