Quick Links:
Return To Entrepreneur's Resource Center
Entrepreneur's Adviser — In the Know
Digital Library
>
Defining and Serving a Market
>
Business conditions
"Entrepreneur's Adviser — In the Know"
Question: "How do you maintain current knowledge of markets?"
Answer: It's easy to become isolated while managing day-to-day operations. However, to maintain a phenomenal growth rate, it is essential for entrepreneurs to take a step back from their personal universe and absorb the most current knowledge about their industry.
Stay connected by networking with the financial community; trade associations, shows and publications; other CEOs and entrepreneurs; and customers and competitors.
The Internet has made information widely available, which increases risk if you don't keep up. Business models are continually evolving, and you need up-to-date information to make wise decisions.
Another tremendous asset to any company is an advisory board, comprised of business advisers, other entrepreneurs and industry specialists. Meet quarterly at the minimum, more often if there are a number of major issues. This board allows you to develop relationships with experts who provide advice from a neutral perspective. In addition, it systematizes the process of reviewing the state of your business.
Remember, stay involved and out front. Isolation is the No. 1 problem for entrepreneurs.
Adviser: Kathy Long Holland is the founder of ECO-D/OMBI, an Oregon-based business-development firm targeting early-stage, fast-growth companies.
Related Articles...
Studies reveal that verbal communication conveys only 7% of a typical message's meaning, while nonverbal cues convey 93%. Are you listening completely? Are you being heard completely?
Read More ...
Digital Library > Defining and Serving a Market > Product development "Cutting-Edge R&D at Your Fingertips" Like a peek at emerging technologies? The National Technology Transfer Center (NTTC) has created a database that tracks and monitors federally funded R&D activity at universities around the country. Entrepreneurs can tap this one-of-a-kind database for high-tech information on computer manufacturing and biotech concerns,
Read More ...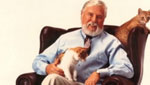 Think back to when you launched your business. I doubt whether you dashed out and did it on a whim. You probably considered and reconsidered a million different areas: your product or service, your market, your competition, how to get money and what could go wrong.
Read More ...