I train more than
I train more than 400 economic development professionals each year in entrepreneurship support strategies from all parts of the country.  I use YE to customize these presentations to specific states, counties and regions, showcasing the rise or drop in numbers of businesses by Stage, the growth or decline of specific industries — and to compare and contrast different regions.  YourEconomy.org is a valuable tool to giving those of us in the field high quality, navigable data.
Related Articles...
"Your Move — A Martial-Arts Approach" Get out of your comfort zone to grow your company — and yourself. Dan MillerWhen I began to study Songahm tae kwon do last year, I was amazed to discover its numerous links to business. Structure. Each class begins and ends with an oath, an espousing of values, and participants address each other as
Read More ...
Digital Library > Defining and Serving a Market > Customer service "Retain Customers by Helping Your Help Desk" Nothing is a bigger turn-off for customers than an unhelpful help desk. Shape up your customer service by getting in touch with the Help Desk Institute. The Help Desk Institute, a Colorado Springs, Colo.-based organization for service and support professionals, has formed
Read More ...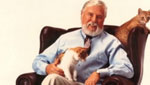 This column is one in a series that will explore the thoughts, ideas and unadorned advice of an entrepreneur who made it, Edward Lowe. When he "brought the cat indoors" with a revolutionary cat-box filler, Kitty Litter, he created an industry that changed the lives of millions of cat lovers, not to mention cats. During his life, Ed Lowe used "plain talk" to speak about the bottom line from the bottom of his heart. We believe these writings, revised and updated after his death, offer value for both your business and personal life.
Read More ...